The 15 best Nendoroid figures available in 2022
Check out the best Nendoroid figures from the worlds of anime, film, TV and gaming.
Nendoroids are small figures made by Good Smile Company based on various characters from anime, TV, movies and gaming. They're also absolutely adorable and remarkably poseable. Any recognisable pop culture figure can have its own cute chibi Nendoroid made of it. Here's our roundup of the 15 best Nendoroids you can spend real money on right now.
Nendoroids, by default, are not only super adorable but usually kitted out with a slew of different accessories and faces so that you can pose your new figure in any number of action stances or scenarios. In addition to that, every last one of them is part of a long-running series. Each Nendoroid figure released gets given a number and as more figures are released, the number increases. At the time of writing, Good Smile Company is into the late 700's and given that each Nendoroid is a limited release, it might be easier to let go of the 'collect them all' mentality before you start.
That said, with so many figures out there, it goes without saying that there is an unbelievable amount of characters you can collect little chibi effigies of, ranging from obscure anime people to niche gaming icons to big-budget Marvel superheroes. Sometimes, there are even multiple versions of certain characters.
Getting your head around the sheer magnitude of Nendoroids available can be a daunting task. That's why we've taken a long look at the range on offer and have put together a list of our top picks for the 15 best Nendoroid figures you can get today.
Harley Quinn Suicide Edition Nendoroid (No. 672)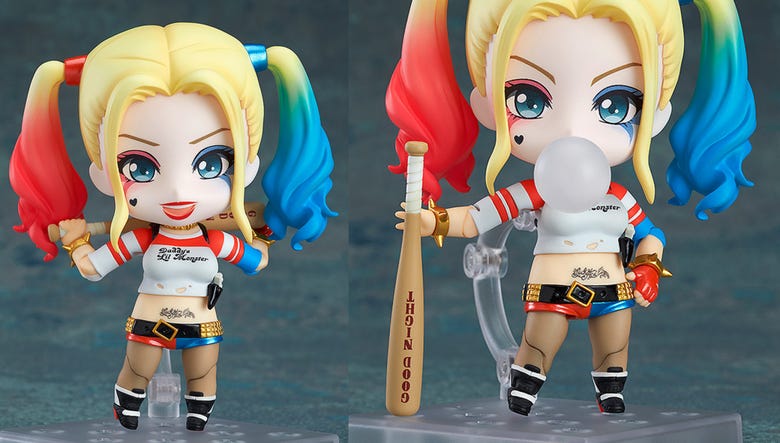 From the movie Suicide Squad comes a gleefully psychotic Harley Quinn. With three different face plates, all of which feature her unique make-up (as seen in the film), this Nendoroid is chock-full of variety. The face plate to display her blowing bubblegum can also have the bubble part removed, for a bonus fourth plate. Fully articulated, you can easily place her in any pose, and with the baseball bat, you can even recreate combat scenes!
Around £50 From Amazon UK
|
Around $60 from Amazon US
Kirby Nendoroid (No. 504)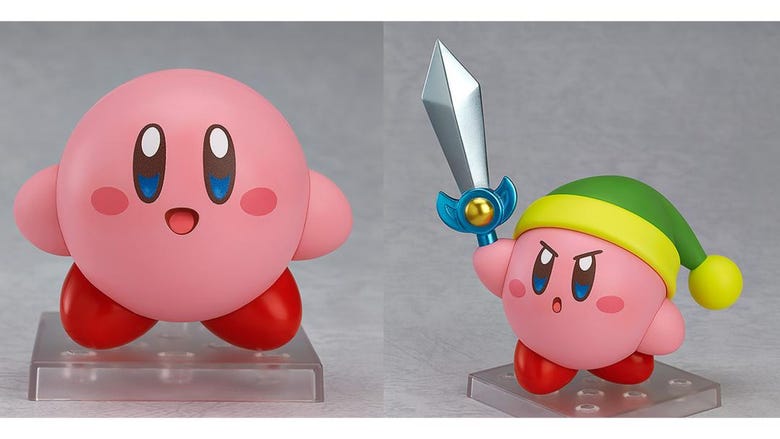 Kirby, the amorphous pink blob originally created by the late, great Satoru Iwata, is one of Nintendo's most iconic characters and has been for over thirty years. Kirby's ability to ingest enemies, absorb their abilities and still make it all look cute is certainly a gift. This Nendoroid version of the little guy comes with a range of accessories and hats to depict Kirby in various states of character mimicry. Plus, it's adorable.
Around £60 from Amazon UK
|
Around $60 from Amazon US
Ice Kirby Nendoroid (No. 786)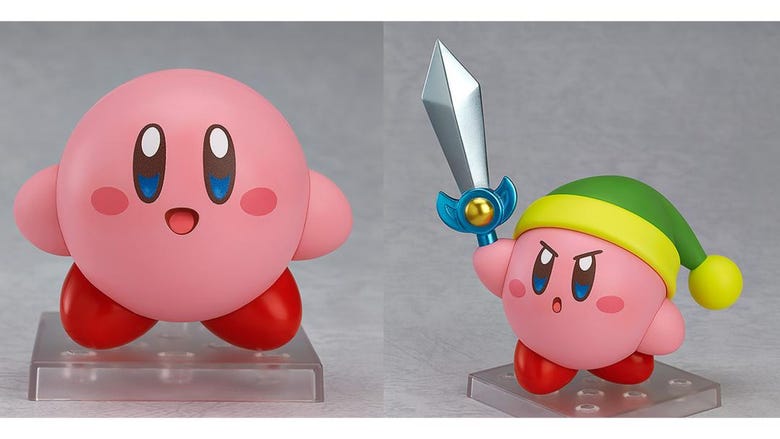 Oh, and there's also an Ice Kirby variant because sometimes you want things to be a little colder. This one does come with a neat "stars being sucked into the void" accessory, as well as an icy crown.
Around £50 from Amazon UK
|
Around $44 from Amazon US
Levi from Attack on Titan Nendoroid (No. 390)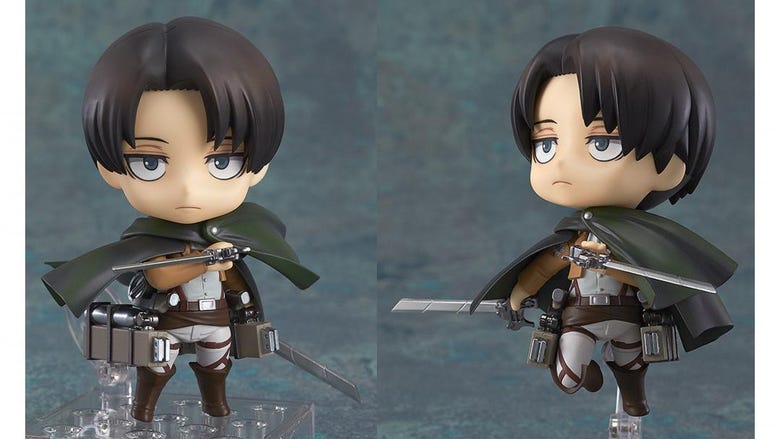 There is nothing cute about Attack on Titan. It's bleak, grim, dark and harrowing. If you happen to be a fan of the series, though, you have no shortage of merchandise to choose from and when there is that amount of merch, there's bound to be some inexplicably cute stuff out there. Enter, this little Nendoroid figure of Levi, one of the earliest figures on this list. Look at his little cape and his sleepy looking eyes.
Around £42 from Amazon UK
|
Around $42 from Amazon US
Majora's Mask Link Nendoroid (No. 553)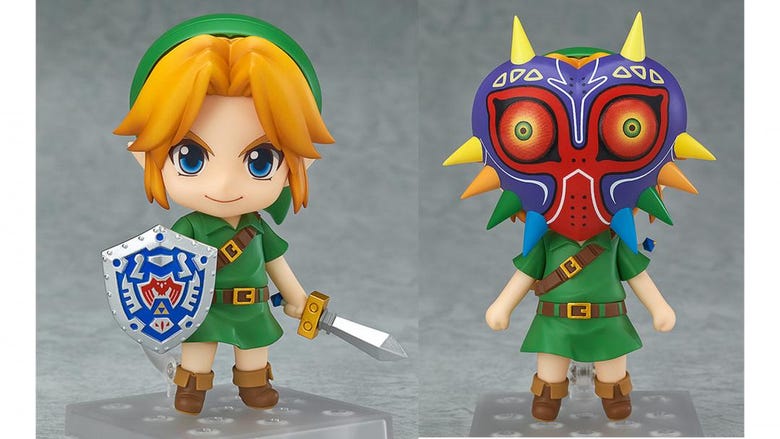 Here he is, the kid himself - Link from the Legend of Zelda series. Specifically, this Nendoroid is based off of Link's appearance from the infamous second 64-bit Zelda entry - Majora's Mask. You can tell because the figure comes with a little mini Majora's Mask for Link to wear, if you feel like freaking out everyone who stumbles upon this figure in the middle of the night.
Around £30 from Amazon UK
|
Around $40 from Amazon US
Overwatch Tracer Nendoroid (No. 730)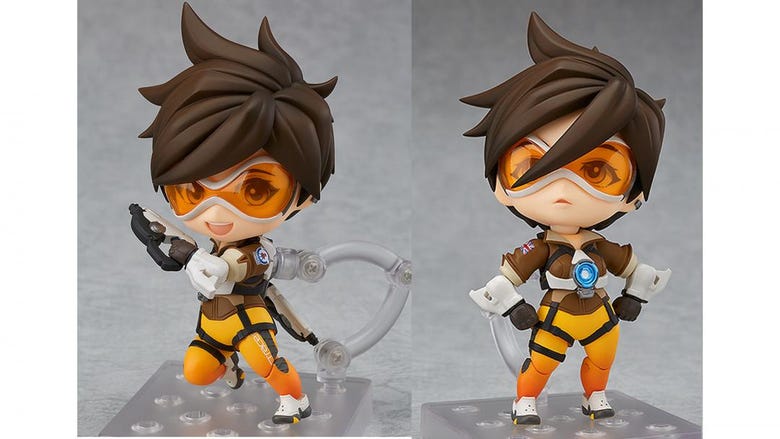 Tracer is one of the most recognisable characters from Blizzard's massive multiplayer hit shooter, so it made sense that she was one of the first two Overwatch-themed Nendoroid figures. Keeping up appearances here, the Nendoroid version of Tracer is suitably stubby looking, but comes complete with a set of weaponry and even the ability to have move her hair over her face to emulate her famous victory pose.
Around £50 from Amazon UK
|
Around $35 from Amazon US
Overwatch Mei Nendoroid (No. 757)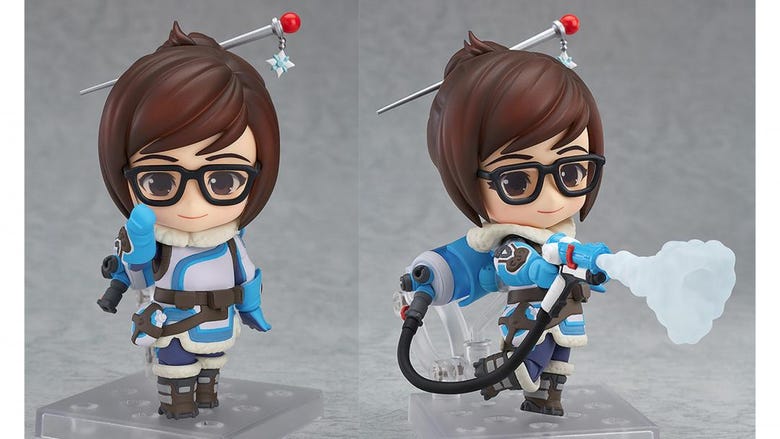 Of course, no Overwatch merchandise would be complete without Mei getting a look in. Mei's Nendoroid figure comes with a range of accessories and weaponry, including her ice cannon, and is guaranteed to make every room she appears in at least 50% more pleasant.
Around £41 from Amazon UK
|
Around $65 from Amazon US
Overwatch Mercy Nendoroid (No. 790)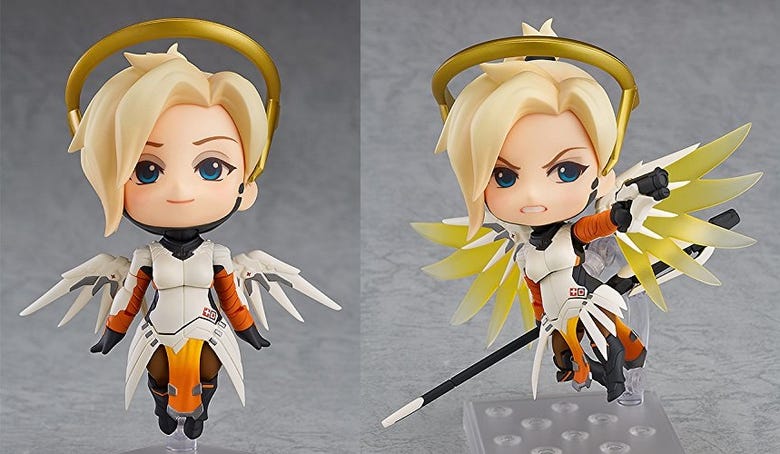 Every Overwatch team needs a good support and lucky Mercy is on call to help out her allies as both a healer and a fighter in this Nendoroid figure. Both staff and effects parts are included, and you can even move her wings to create your own action poses.
Around £45 from Amazon UK
|
Around $70 from Amazon US
Breath of the Wild Link DX Edition Nendoroid (No. 733-DX)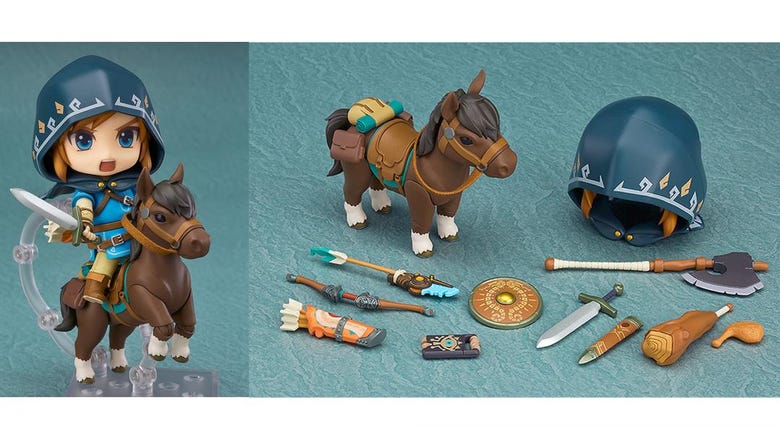 That's right, Link is so famous he's not only gotten multiple Nendoroid figures based on himself, but has even gotten a second shout out in our list of the best Nendoroid figures around. That's because this figure, which is based off of Link's appearance in Breath of the Wild, comes with a bounty of extras that make this Nendoroid one of the best ones available right now. If the mini horse didn't do it for you, perhaps the bow and arrow will or maybe the cute hood. This figure is actually the first DX edition Nendoroid have created, and we hope they continue the tradition since this premium version is as eye-catching as they come.
Around £70 from Amazon UK
|
Around $72 from Amazon US
Mega Man Nendoroid (No. 556)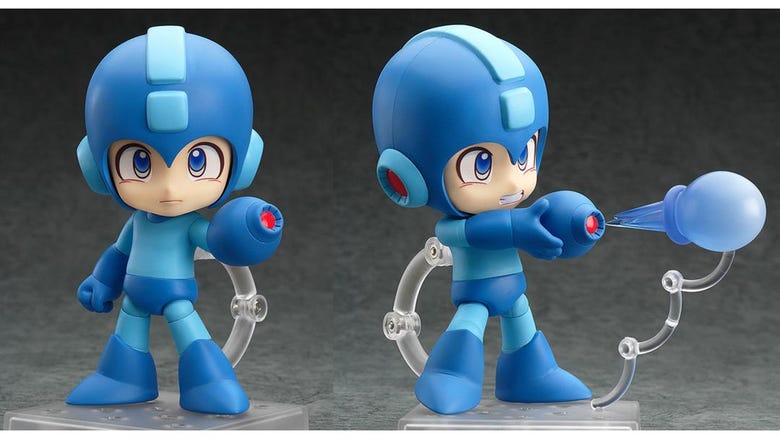 The Good Smile Company really seem to be fans of noteworthy Nintendo franchise characters. While not exclusively a Nintendo character, Mega Man certainly made himself a household name through the classic NES games and now, can be yours in tiny figure form, complete with action-pose accessories and a robotic smirk.
Around £30 from Amazon UK
|
Around $50 from Amazon US
Mario and Luigi Nendoroids (No. 473 & No. 393)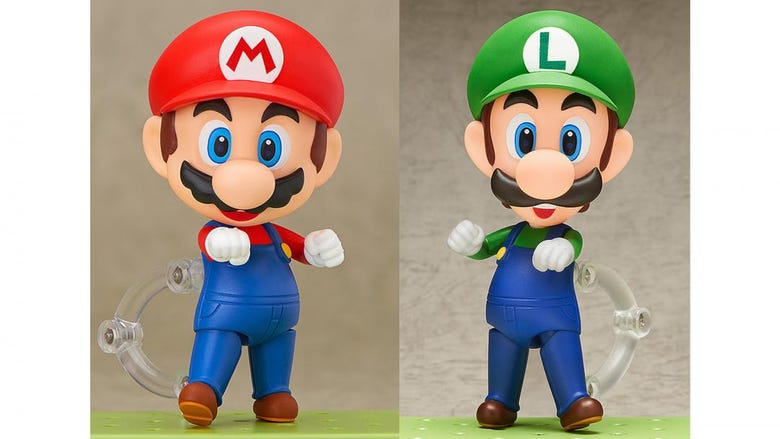 We weren't kidding when we said there were a lot of Nintendo legends that have gotten their own Nendoroid figures but of course, no list of Nintendo characters would be complete without this pair of knuckleheads. Both Mario and Luigi figures come complete with Mushroom Kingdom accessories such as pipes and flowers. Suitably, Luigi is a little taller than Mario. I know that last detail was important to you. Bad news is that you probably have to buy both of these in order to feel complete.
Mario:
Around £50 from Amazon UK
|
Around $65 from Amazon US
Luigi:
Around £48 from Amazon UK
|
Around $61 from Amazon US
Ash & Pikachu Nendoroid (No. 800)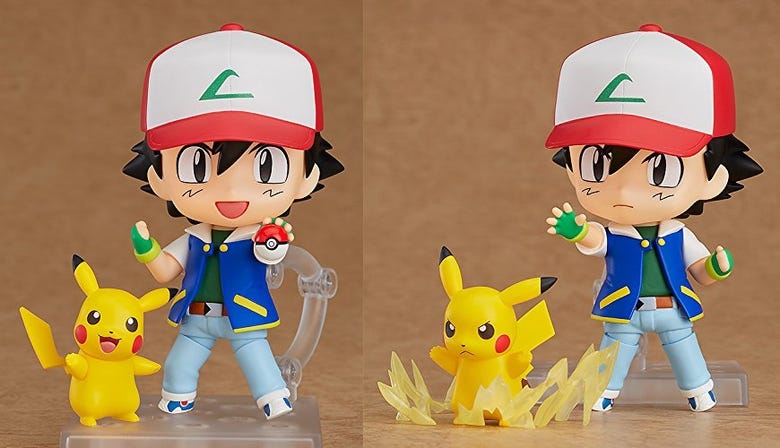 Is there anything sweeter than the relationship between Ash Ketchum and Pikachu? The pair has been through a lot together, so this Nendoroid set allows you to live out their toughest battles or moments of kindness between each other.
Around £45 from Amazon UK
|
Around $60 from Amazon US
Morgana Nendoroid (No.793)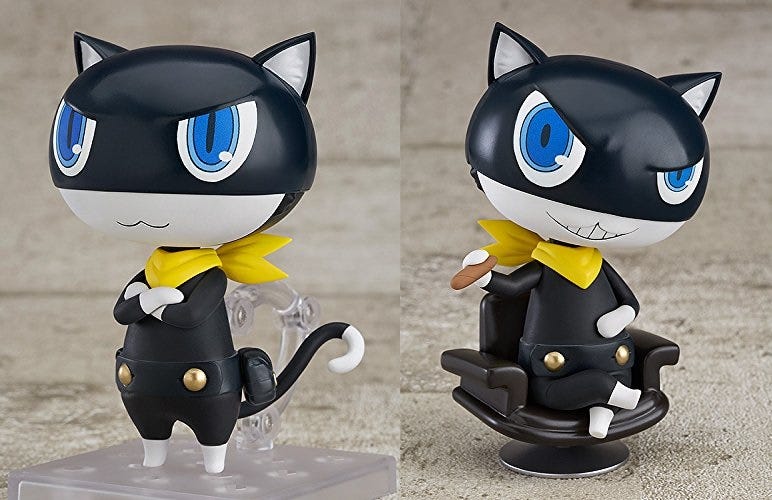 The effortlessly cool kitty from Persona 5 (at least when he's not nagging at you to go to bed) is now also available in Nendoroid form. He comes with a number of neat poses, including the famous swinging chair and cigar from a successful finisher attack. Just try to look at it without the catchy victory theme starting up in your head.
Around £67 from Amazon UK
|
Around $80 from Amazon US
Nathan Drake Nendoroid (No.698)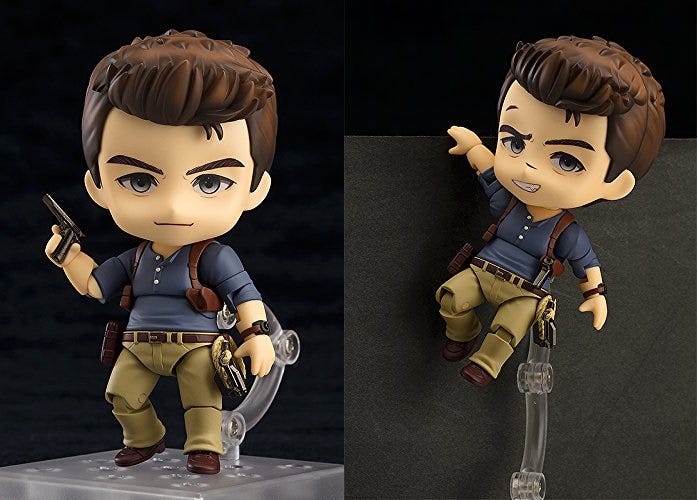 Even the Nendoroid figure of Nathan Drake looks super cocky. Just look at that smirk as he's dangling off the ledge, no doubt having just nabbed some priceless artefact from an ancient temple right under the noses of a bunch of gun-toting goons. This one also comes with a grappling hook which is pretty cool too!
Around £50 from Amazon UK
|
Around $50 from Amazon US
Venom Snake Nendoroid (No. 565)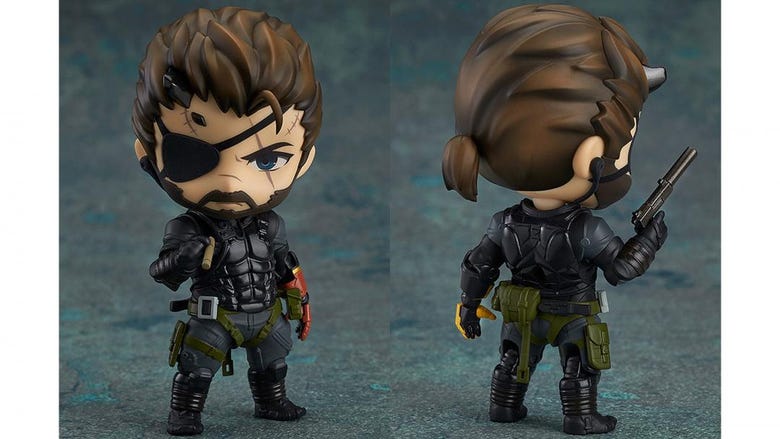 Around the time Metal Gear Solid V: The Phantom Pain finally launched in 2015, the Good Smile Company also released this intensely detailed and all-around awesome chibi effigy of the game's main character, Venom Snake. The Nendoroid version of Snake (AKA Big Boss) comes with a silenced pistol, an alternate bionic arm and even an E-cigar. This one is probably the coolest looking figure on our list, but perhaps only for the biggest of MGS fans.
Around £85 from Amazon UK
|
Around $85 from Amazon US
---
There you have it, that's our top picks for the best Nendoroid figures you can buy right now. We'll keep this list updated as the months go by and fancy new figures are announced, of course.
If you think we've missed out on some particularly great Nendoroid figures, go ahead and let us know via our Facebook or Twitter accounts and we'll take a look.