Best Xbox Game Pass and Xbox Live Gold deals for Black Friday 2021
Where to find the best prices for Xbox Game Pass and Xbox Live Gold this Black Friday for those looking to renew your subscription of either service.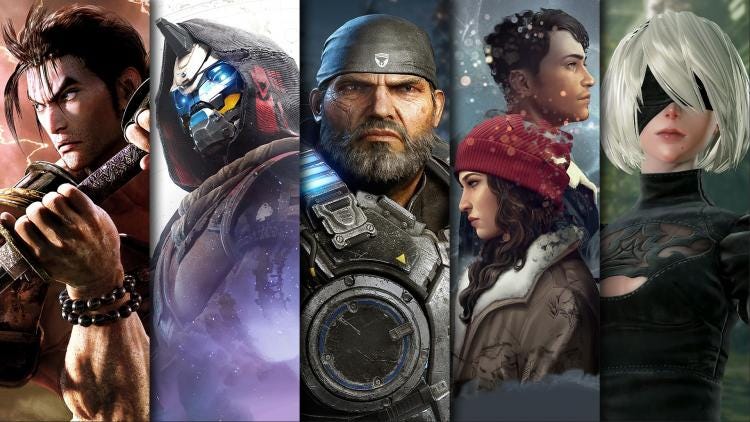 Xbox owners or prospective buyers should know that if you own an Xbox One or Xbox Series S|X, the best way to get the most out of it is by getting Xbox Game Pass and Xbox Live Gold, two great services that enhance the way you play. We'll go into the best Xbox Game Pass and Xbox Live Gold deals for Black Friday 2021 in our helpful guide here, along with what each service offers, with updates provided by us in real-time, so you'll always know where to find the best discounts.
Where to find the best deals for Xbox Game Pass and Xbox Live Gold on Black Friday
For the best discounts for both Xbox Game Pass and Xbox Live Gold this Black Friday, we've laid out everything you need to know just below, with the deals first and details at the bottom. As mentioned, we'll be updating this info in real-time as Black Friday approaches and passes, so keep checking back and refreshing the page - we'll have what you need sooner or later!
Best Xbox Game Pass deals
Xbox Game Pass rarely comes bundled with anything less than a console itself, but that doesn't mean it can't be worth the value regardless. Not only that, but the subscription can often be discounted on Microsoft's official sites, meaning that you can get it reduced on its own. In fact, if you've never previously been a Game Pass member, you can currently get 3 months worth of a standard Xbox Game Pass subscription on PC for just £1 or $1, whether you're from the UK or US respectively. This offer is only for a single month if you opt for the 'Ultimate' version however, so while Ultimate provides the best value with multiplayer access baked in, there is a choice to be made; it's between one month of online multiplayer access and a huge library of games to play across Xbox and PC, or three months worth of just the huge library of games, limited to PC.
Whatever kind of Xbox player you are however, do not worry because we've rounded up the best deals we've found for Game Pass below; while there's currently not many discounts, we are expecting to see more deals go live the closer to Black Friday we get.
UK
US
Best Xbox Live Gold deals
For those who're looking to game as a group, you'll need an Xbox Live Gold membership. This is a little more common as something that can be bundled with games, though usually not for any substantial amount of time - a couple of weeks given free with a game that's heavily multiplayer-focused, for example. Check below for the best offers, bundled or not!
UK
US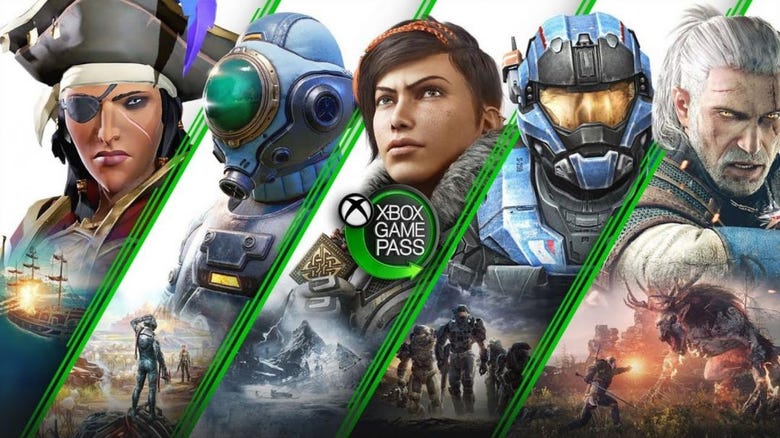 What's the difference between Xbox Game Pass and Xbox Live Gold?
The difference between Game Pass and Xbox Live Gold is a matter of functionality versus accessibility. Game Pass is a hot-demand service that functions as Netflix for Xbox games, allowing you to pay a monthly subscription (or several months in advance) to be able to download games to your console or computer. You can only play them for as long as you're subscribed to the service, but there are no extra payments involved.
Not only that, but Game Pass often involves exclusive content and offers, and allows you to buy certain games at a discount, so you'll get to keep them even after the subscription ends. The full list of Game Pass games can be found here (though the available games change all the time).
Xbox Live Gold is a service that allows you to play games with online multiplayer. For example, if you have Forza Horizon 5, you'll be able to play the offline content with no restrictions, even if you don't have Gold permissions. However, once you select the multiplayer option, you'll be gently rebuffed back to the main menu unless you have an Xbox Live Gold subscription. Gold also comes with a "Games with Gold" feature that gives you a few free games every month, which isn't a bad deal.
So to clarify: Game Pass lets you download games from the internet whether you're on console or PC, while Gold lets you play the online components of games with friends and strangers. Though it should be stated that Free to Play games such as Fortnite and Destiny 2 don't require Gold memberships to take online with others.
Don't worry, we're nearly there now!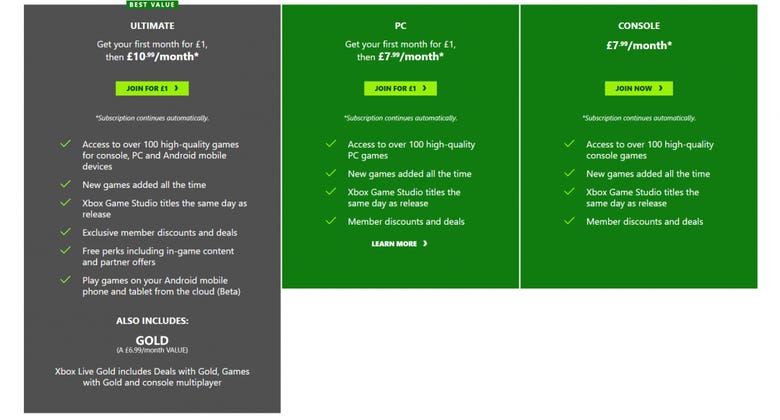 Does Xbox Game Pass work on PC?
Yes, it does, assuming you buy Game Pass for PC specifically, or the 'Ultimate' subscription. If you have a recent Windows computer, you can get Game Pass for that, though the library of games available is different depending on whether you're browsing on an Xbox console or PC.
It should be noted that standard Game Pass subscriptions only apply to one device or the other. For example, you can get the PC-specific version of Game Pass or the Xbox version of Game Pass, but the contents of the subscriptions are different. You can however upgrade your subscription to a higher tier with more value, and that brings us nicely to:
What is Xbox Game Pass Ultimate?
Xbox Game Pass Ultimate is an enhanced version of regular Game Pass; it costs slightly more, but has a lot of extras. For one, it applies to both your Xbox and PC, meaning you pay one subscription fee for both devices (though they still each have separate libraries).
More interestingly, Game Pass Ultimate also comes bundled with a free subscription to Xbox Live Gold! That means you can play online games as much as you like, and it'll never run out so long as you're an Ultimate member.
---
That's all the data you should need for Xbox Game Pass and Xbox Live Gold! For PlayStation's equivalent services, take a look at our PS Plus/PS Now Black Friday page.
Don't forget to head to the Jelly Deals Twitter, where you can find instant deals and discounts as they appear!