Cheap Black Friday Amazon Echo deals including the Echo Dot and other Alexa devices
Find the right Echo speaker or screen with Alexa and save with these Black Friday deals. Create a Smart Home today.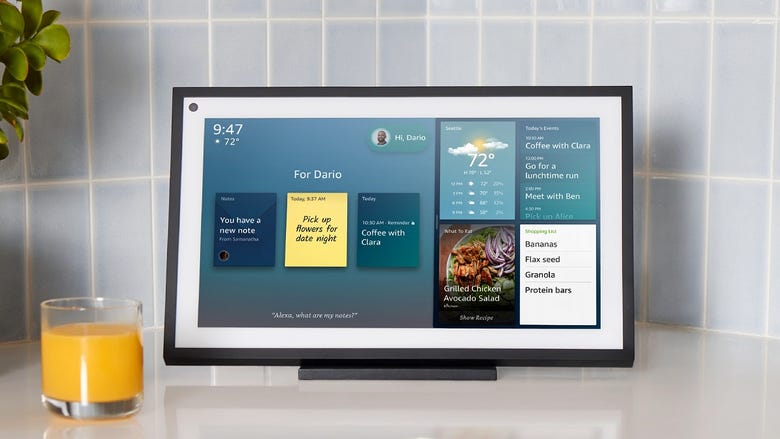 There are some rather cool devices out there to go with Alexa, Amazon's online virtual assistant. Designed to make any house a Smart Home, the screens and speakers from Amazon's Echo range can play your music, turn on the lights, search the internet and order online for you with just a voice command.
There's an Echo for just about everyone and every situation too. Right at the top end is the latest Echo Show 15, so new it's only available on pre-order. It has a full HD 15.6in display and 5-megapixel camera and will definitely keep the family entertained as well as organised. And at the far end is the tiny plug-in Echo Flex that lets you listen to audio and charge your devices.
There are plenty of stops in between of course and as the Black Friday sales roll out more devices from the range are sure to appear with discounts and offers. In both the US and the UK, Amazon has already started rolling out it's Early Black Friday deals. So far it looks fairly similar to last year with some fairly substantial discounts of up to 40 per cent. US buyers will be able to save quite a bit on selected 2nd Generation Echo Frames with up to 30 per cent off.
So, leaving aside something highly desirable( but as yet unobtainable) like the Show 15, what sorts of bargains might be in store in this year's Black Friday sale? Here's our cheat sheet and quick guide to the range.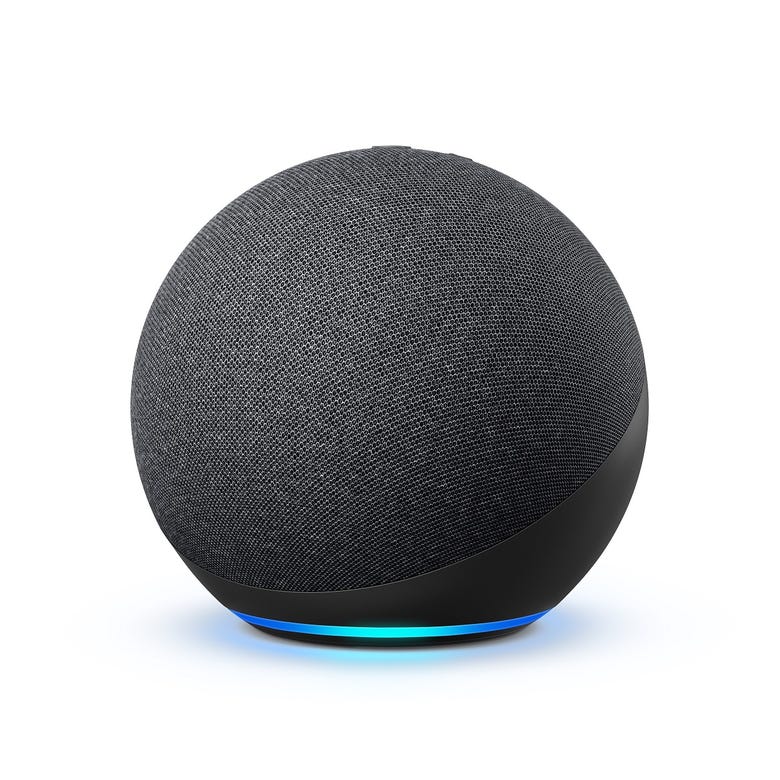 Echo Dot and Echo Studio
The Echo range of speakers all come connected to the internet with Amazon's Alexa online assistant, and the Smart Home features are pretty much the same. What makes the difference is the audio quality. At the top end is the Studio, with a good audio performance and decent bass. The orb-shaped Echo 4th Generation speakers provide a generous level of audio to fill most rooms in a house and you can pair the Dot with a Bluetooth speaker.
If previous years are anything to go by, the Echo Dot range of speakers is where we'll see some really good discounts from Amazon. First up will be the older devices, and we're already seeing savings on the Echo Dot 3rd Generation. Along with a drop in price, in the UK there's also a 2 for 1 deal on this speaker when you use the promo code 'ECHODOT2FOR1' at the checkout.
UK
US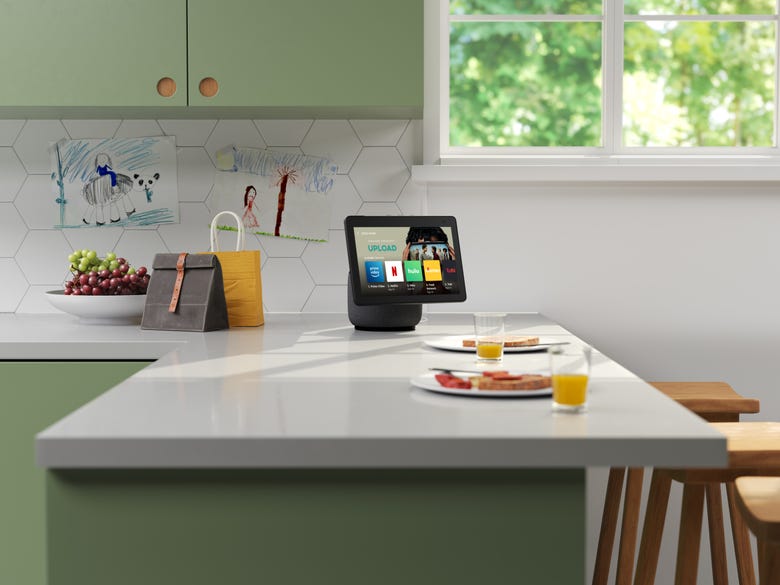 Echo Show
The screen on the Echo Show range is the perfect addition as we spend more time on video calls than before. The Show 10 has a motorised screen that can follow you if you're moving around. Although a welcome feature not everyone will have the space for this, and the Echo 8 offers all the same features but with a static stand. The latest generation of the budget Echo 5 has a 2-megapixel camera and its small size will make it perfect for tiny space.
UK
US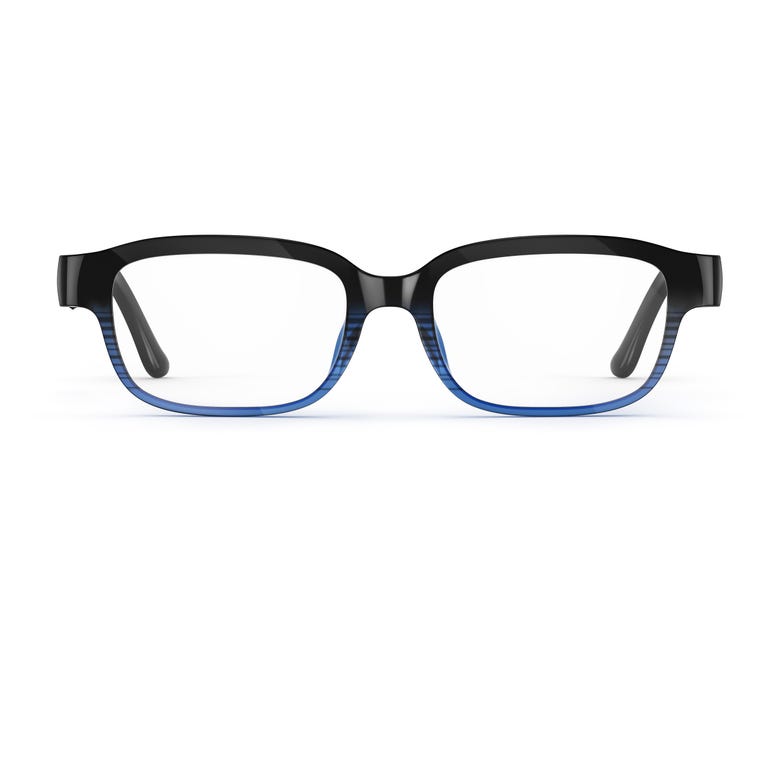 Echo On The Go
The Echo range also allows you to take Alexa on the move with you. You can pop Alexa in your ears directly with the Echo Buds. In the car, the compact Echo Auto plugs will give you all the same voice-activated commands you're used to using at home. It connects to your phone's Alexa app and can use your phone's Bluetooth connection to connect with the speakers in your car.
Currently only on sale in the US, Amazon makes and sells Frames. These are Smart Audio Glasses that direct sound into your ears. You can use them to make calls and do any of the voice commands you're used to such as adding to your to-do list or controlling your Smart Home. You can snap up a pair of frames or sunglasses with discounts of nearly 30 per cent in the sale.
UK
Coming Soon
US
Other Echo devices
Sitting in the range are a few devices that help you make the most of the speakers and screens. The Echo Sub is a subwoofer with a 100W deep bass sound that paired with two other Echo speakers will provide a surprisingly decent stereo experience. Or you can stream audio straight to your stereo with the Echo.
Then around the home you can spread Alexa around a little more with the plug-in low-budget Echo Flex. Voice control your home, check on the weather and traffic before you go out, turn on the lights. You can use it as a speaker but the sound quality isn't great, however it will connect to a stereo.
UK
US
Coming Soon
As more stores join in the Black Friday sales, and more discounts are added, we will be updating the pages here. Keep coming back to check to see if the device you want has been reduced in price. An even faster way to keep up to date with the price drops is with our Jelly Deals Twitter so make sure you follow our page.