Best noise-cancelling wireless headphones deals for 2022
Here you'll find all the best noise-cancelling wireless headphones deals for 2022.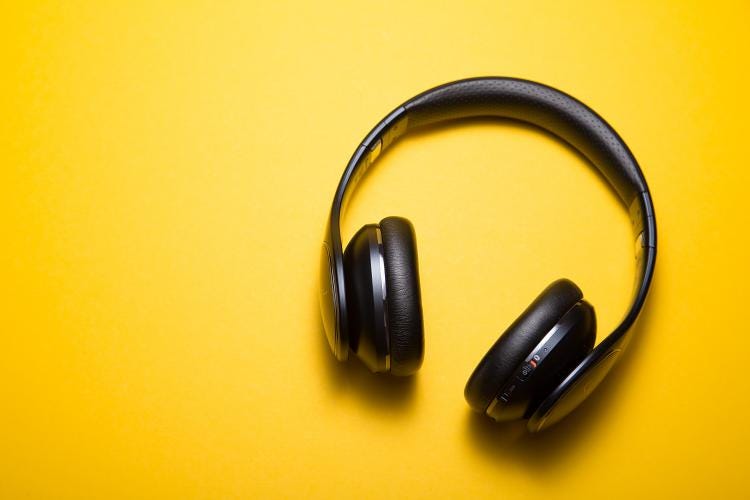 Noise-cancelling headphones are much more affordable and able to fit all kinds of budgets these days, which is music to the ears of both audio enthusiasts and commuters alike. With that in mind, here are some of the best noise-cancelling wireless headphones you can buy in 2022.
Wireless headphones with active noise cancelling (ANC) technology can deliver fantastic listening quality, blocking out the rattling noise of a train or the distracting chit-chat in the office. Not only is your music – or podcast, audiobook, or anything else you like to listen to– easier to hear and crisper in its quality, with ANC on, you don't have to turn your volume up to block outside noise, something your eardrums will be pleased about.
Sony, Apple, Samsung, Beats and Bose are renowned for offering the best wireless headphones on the market; offering the crème de la crème of noise-cancelling bliss and a premium listening experience.
However, there are cheaper noise cancelling headphones creeping up the ranks from lesser-known brands such as
Anker
,
Doqaus
and
Prtukyt
. While some audiophiles may argue you really do get what you pay for, it could also be agreed that even entry-level noise reduction and noise isolating headphones can beat out traditional sets.
Here you'll find all the best noise-cancelling wireless headphones in 2022. If you prefer an in-ear design, you'll find all you need in our best wireless earbuds post.
Sony WH-1000XM4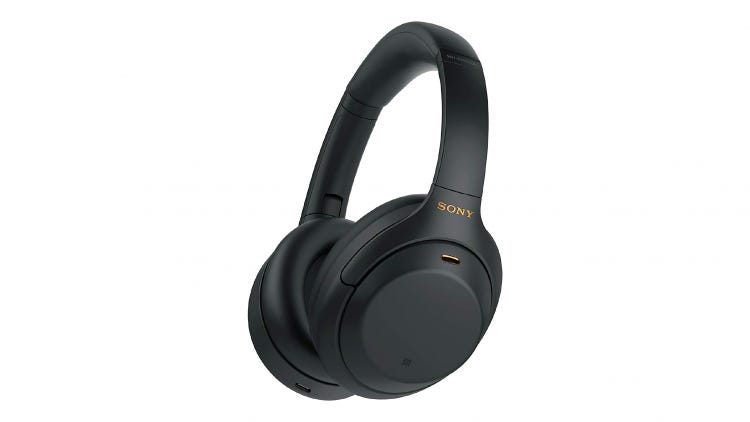 Sony's latest entry, the XM4 noise-cancelling wireless headphones are already making quite the impression. The headphones launched in June 2021 and they're the over-ear headphone counterparts to XM4 earbuds. The wireless headphones showcase industry-leading noise-cancelling technology, immersive audio quality and long battery life. The headphones are also optimised for Alexa and Google Assistant, plus a built-in mic for clear phone calls.
If you're not planning on spending full whack on a pair of headphones or you're not fussed on the latest model, the excellent Sony WF-1000XM3 are arguably just as good and they're on offer on Amazon right now.
AKG N60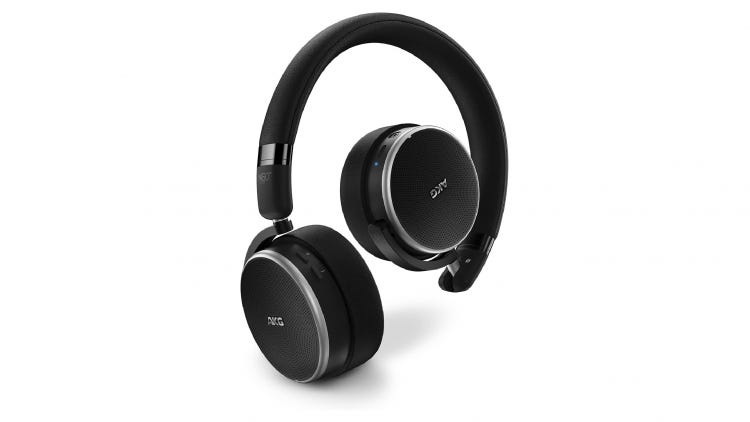 The Samsung x AKG N60 is a fantastic choice when it comes to noise-cancelling headphones. Whether you're listening to a podcast, audiobook or taking a call in a noisy office, you'll hear only what you want.
These wireless headphones have a long-lasting battery, delivering 15 hours of listening time with both Bluetooth and ANC turned on, and up to an impressive 30 hours of playback with just ANC turned on.
Compact, foldable and lightweight, the AKG headphones are ideal for any type of travel, whether you're commuting on a noisy train or getting some shut-eye on a plane with a screaming baby. The lightweight and comfortable design also means you can wear them for a long time.
Bose 700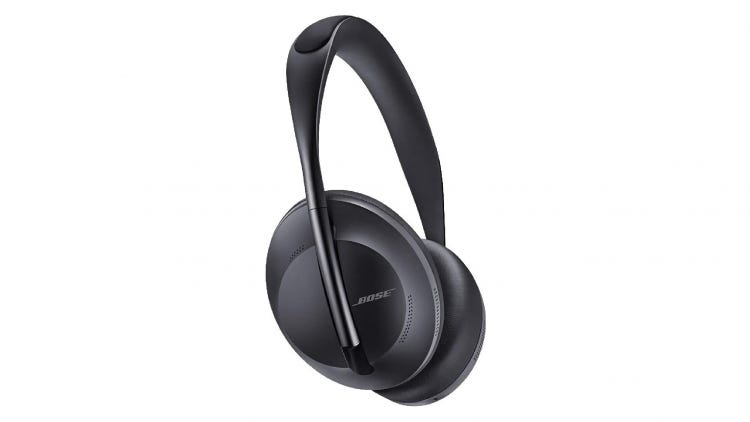 If you're serious about blocking out distracting noise, the Bose 700 noise-cancelling wireless headphones are worth the splurge. They feature 11 levels of active noise cancelling so you can listen to music, podcasts, videos and calls wherever you like.
The specialised microphone system adapts to noise and wind, ensuring your voice always sounds crystal clear. The noise cancellation is also adjustable so you can personalise your environment. They promise crisp, clear audio and deep full bass for an immersive listening experience.
Bowers and Wilkins PX7
Boasting Qualcomm's AptX HD Bluetooth technology, adaptive noise-cancelling functionality and the brand's largest PX series drivers, Bowers and Wilkins PX7 is a super-impressive headset. As one would expect from one of the biggest producers of audio equipment, the sound quality is crystal clear, the bass is accurate and the rhythmic precision is fantastic.
The set contains a sensor that will instantly pause playback when you take them off your head, and even if you simply lift an ear cup to listen to your surroundings – meaning you never miss a beat. They offer 30 hours of playback and an extra five hours from a quick 15-minute charge. On top of that, as is the case with all of Bowers and Wilkins products, they look absolutely gorgeous.
Bose QuietComfort 35 II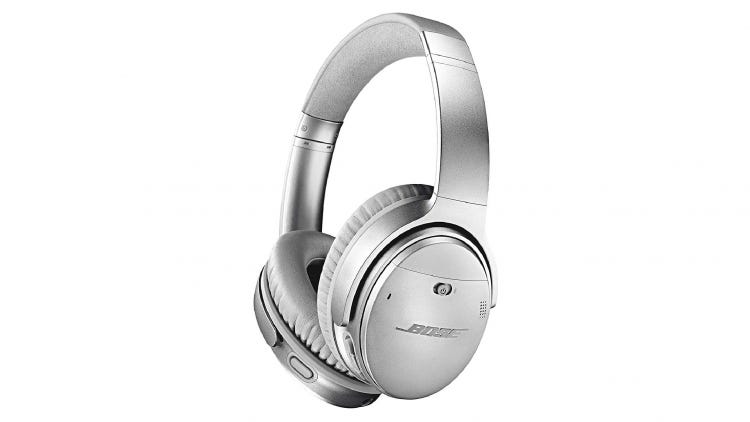 The Bose QuietComfort 35 II don't have aptX support and they don't quite match their rival, the Sony XM4, in terms of sound quality but they still deliver absolutely awesome sound quality. They also offer 20 hours of wireless listening, which is pretty decent.
What the QuietComfort 35 II headphones do feature is an integrated Google Assistant and Amazon Alexa voice control functionality. Using a preset button you can adjust the level of noise cancellation in your listening experience. The set is sleekly designed and the comfortably snug ear cushions provide extra quietness. When paired with a smartphone, they can also alert you to any notifications.
Sennheiser HD 450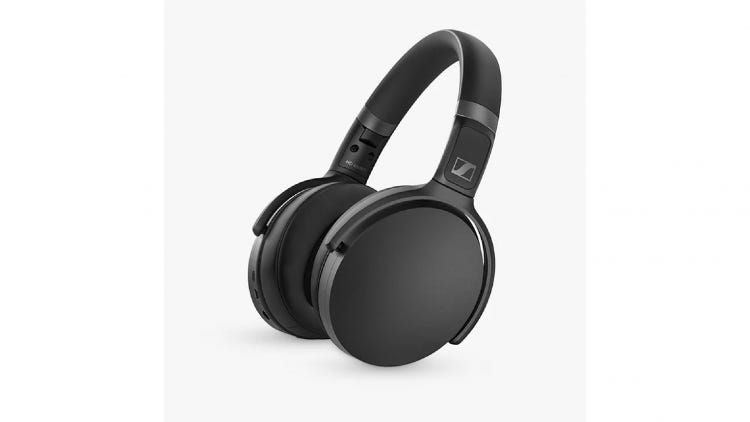 Like every set of headphones in Sennheiser's arsenal, the HD 450 bank their appeal first and foremost on audio quality. This set offers active noise cancellation and a closed back design, so you can enjoy music, podcasts and audiobooks without distraction from the outside world. Sennheiser delivers deep, dynamic bass and superior sound.
Beyond that, this is a rather feature-packed headphone set, offering AptX Low Latency and a Smart Control app to tailor and personalise the sound to your liking. Sturdy and compact, the foldable and durable design also makes for easy storage and travel.
Beats Solo Pro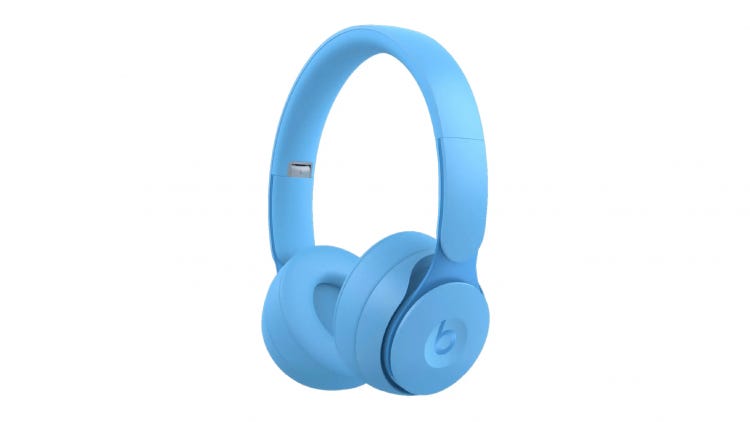 Delivering premium sound thanks to fine-tuned acoustics and active noise cancelling technology, the Beats Solo Pro wireless headphones offer clear sound and well-balanced audio. They boast 22 hours battery life with ANC on – and up to 40 hours with ANC turned off.
The on-ear headphones' fast Fuel feature allows you to get three hours of play from a 10-minute charge – perfect if you're in a rush and need to charge them last-minute. The Beats Solo Pro headphones normally come in at £269.99, but you can currently invest in a set for £154.99 from IWOOT (a saving of £115).
New Apple AirPods Max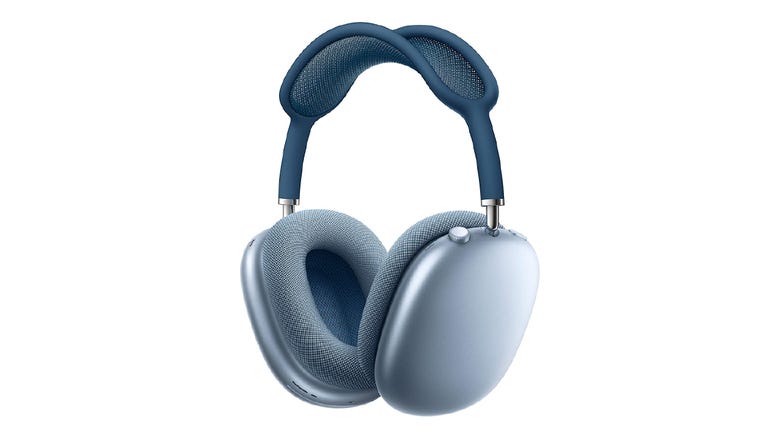 If you're a dedicated Apple fan, the brand's first noise-cancelling over-ear headphones are an absolute must. They might be incredibly costly but, they without a doubt don't skimp on quality. The set provides excellent immersive audio and noise cancelling, plus a transparency mode so you can listen and interact with your environment. The high-end wireless headphones have up to 20 hours of listening time on a single charge with ANC or Transparency mode enabled.
The headset's modern design is likely an acquired taste, but they undeniably offer superior comfort and a personalised fit, thanks to the set's knit-mesh canopy and memory foam cushions. There's currently 22 percent off the Sky Blue pair at Amazon- a saving of £119.45.
Anker Soundcore Wireless Headphones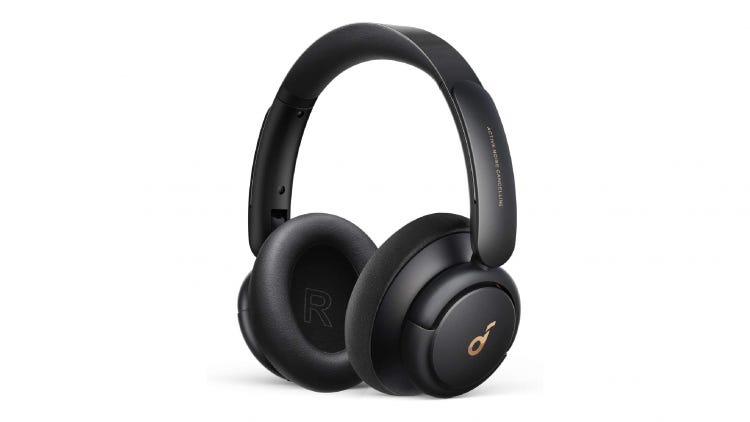 The Anker Soundcore Life Q30 wireless headphones are the perfect everyday pair if you're on a budget. This particular headset is £79.54.
The headphones boast Hi-Res certified sound via 40mm dynamic drivers and customized EQ, delivering outstanding audio quality and thumping bass. The headset has three noise-cancelling modes to cancel out transport noise including loud trains and planes, outdoor noise such as traffic and wind and indoor noise for busy offices.
Battery life is also fantastic: a full 40 hours of listening on a single charge with noise-cancelling mode on and up to 60 hours with the noise cancellation turned off. Their quick five-minute charge offers an additional 4 hours of playback, making them the perfect on-the-go pair.
Jabra Elite 85h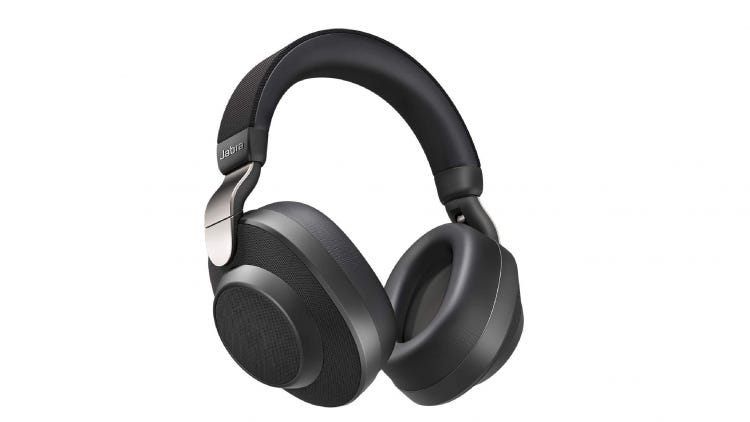 The Jabra Elite 85h wireless headphones are great all-rounders for everyday life. They feature a durable and comfortable design and battery life with ANC on is superb – 41 hours on a single charge. These wireless earbuds also work with Amazon Alexa, Siri and Google Assistant, so you can enjoy hands-free voice control.
The noise-cancelling headset will automatically adapt to your environment and applies personalised sound. Its eight microphones also enhance call quality and block out even more wind noise and background distractions. They also recognise when you remove them from your ears and will automatically pause and play accordingly. Normally £279.99, the Jabra Elite 85h are now £170.46, giving you a decent £109.53 saving.
---
Here at Jelly Deals, we bring you all the latest and exciting news on gaming deals and tech offers. We also tweet about them over on ourJelly Deals Twitterpage so make sure to give us a follow.