Best Xbox Game Pass Ultimate deals for 2021
We've scoured the net to find the best Xbox Game Pass Ultimate deal to ensure you're paying the best price for Microsoft's top value subscription service.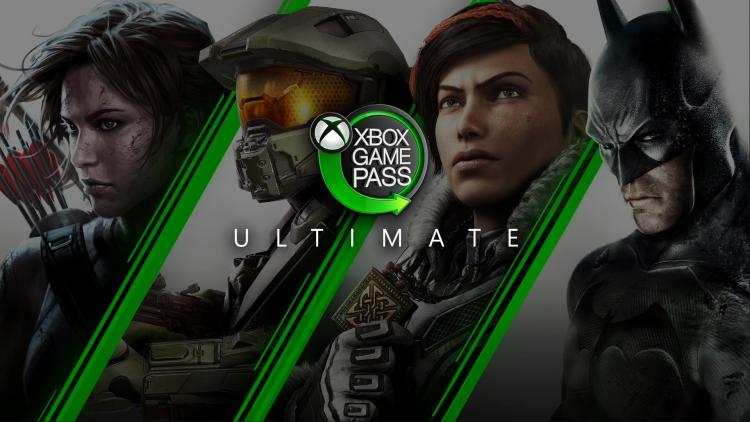 If you're a regular Xbox player, the Game Pass Ultimate is pretty much a no-brainer. But all of that lovely stuff doesn't come cheap, which is why we've gathered together all the best Game Pass Ultimate deals right here for your perusal. We'll update this page as new deals go live, so make sure to keep checking back.
Not only will a subscription to the Game Pass Ultimate net you an absolute bucketful of games, many of which are compatible across Xbox and PC, but you'll also get day-one access to the console's biggest upcoming titles. That makes it a slightly different proposition to Sony's PS Plus membership for PS5 and PS4.
It also automatically includes an Xbox Live Gold subscription, giving you access to multiplayer gaming as well as a whole host of perks and discounts. Microsoft might have backed down from the Xbox Live price hike, but the Game Pass Ultimate remains easily the best deal of the two.
Best Xbox Game Pass Ultimate deal
Digital retailers regularly offer six months of Xbox Game Pass Ultimate for the price of three: the perfect opportunity if you're looking to top-up your membership. Don't fret if you've got loads of time banked up now, though, as this discount tends to pop up regularly throughout the year.
For new subscribers, Microsoft is currently offering an absolutely brilliant deal: £1 (or $1 for Americans) for your first month. If you've ever been tempted by Game Pass Ultimate, then now is an absolutely perfect time to try it out. Simply sign up, part with a pound, turn off auto-renew, and sit back to enjoy a nice long trial of the service. Microsoft hasn't indicated how long this promotion is going to last, but the deal has been around for a couple of months so it's best to sign up sooner rather than later.
When the £1 offer ends, your next option will be to head to CD Keys for the best Xbox Game Pass Ultimate deal. CD Keys is reliable, but you need to make sure you're buying a code for the correct region. Failing that, we'd recommend you check with Amazon and ShopTo.
In the UK:
Buy from ShopTo
|
Buy from Amazon UK
In the US:
Buy from CD Keys
|
Buy from Amazon US
What is Xbox Game Pass Ultimate?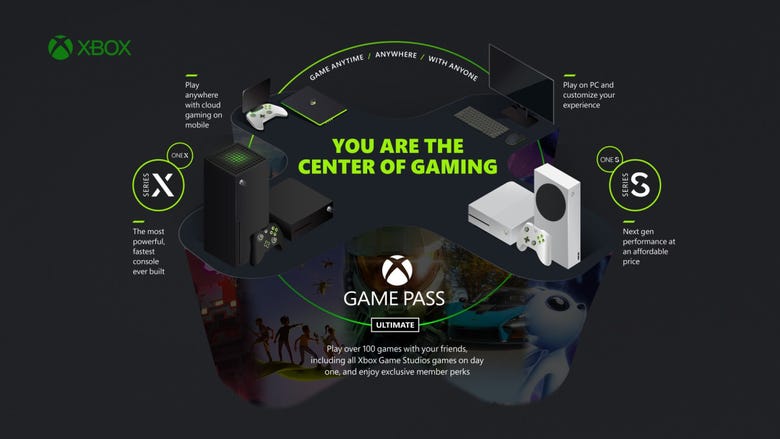 Xbox Game Pass Ultimate is a subscription service that pairs the Xbox Game Pass, Xbox Live Gold and EA Play services. Game Pass and EA Play are essentially digital libraries, offering a vast catalogue of games you can download at any time, with new titles added regularly in the monthly updates. Xbox Live Gold is Microsoft's online multiplayer component that you'll need to play online with friends.
By combining the three, you're getting some incredible value. It saves over a third off the price of buying them individually. Essentially, if you do the majority of your gaming on an Xbox, you'll want to be an Xbox Game Pass Ultimate member.
What's more, Microsoft has announced that new Xbox exclusives would be coming to Game Pass Ultimate on the day of release, meaning you don't have to pay those hefty launch title prices. In the past, that's meant day-one access to Gears 5. Game Pass subscribers were also able to enjoy psychological horror romp The Medium as soon it was launched for no extra cost.
There's plenty more to look forward to in 2021: Master Cheif is making his big comeback in Halo Infinite, and Psychonauts 2, the long-awaited sequel to Tim Schafer's offbeat cult classic, has finally hit (digital) shelves.
Of course, the Game Pass is a great choice for those of you who managed to scoop up one of the Xbox Series X/S consoles. Microsoft's compact digital console is essentially purpose-built for the subscription service. Combine the discounted Game Pass with the lower price point of the Series S, and you're looking at something unbelievable – a budget next-gen option. Hurrah!
How much does Xbox Game Pass Ultimate cost?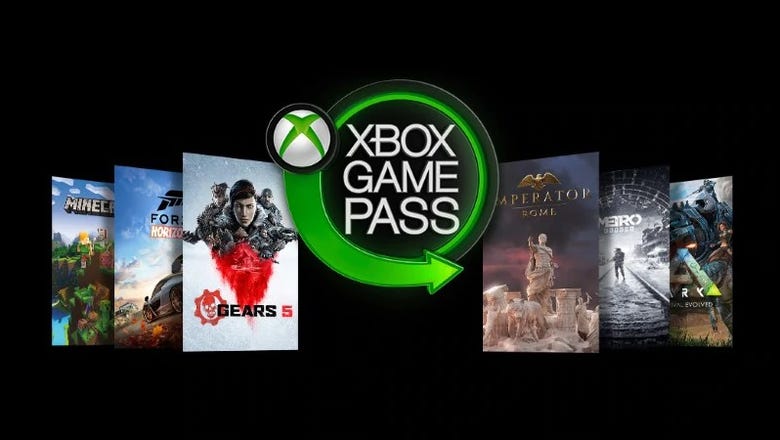 Xbox Game Pass Ultimate normally costs £10.99/$14.99 a month.
What do you get for that price? You get all the benefits of Xbox Live Gold to play online multiplayer, access to a rolling library of over 100 Xbox games, the chance to play Xbox exclusives first as part of your subscription and exclusive member deals when purchasing titles included in the Xbox Game Pass.
New subscribers will get their first month for £1/$1, after which the price will revert back to the regular charge.
For existing Xbox Live Gold or Xbox Game Pass members, signing up for this offer will convert any of your existing subscription time into Ultimate for free. Let's say you've recently purchased a year of Xbox Live Gold? Well, all of that time will automatically become an Ultimate subscription when you sign up, too!
With that in mind, it's generally considered best to stock up on as much Xbox Live Gold and Xbox Game Pass time as you like (up to a maximum of 36 months). Then, activate the Game Pass Ultimate deal. That'll get you a huge chunk of your subscription to the new service for a fraction of the cost. Cheeky!
What games are included with Xbox Game Pass Ultimate?
Short answer: many. If we tried to list them all here you'd be scrolling down the page for a long while! Instead, you can head over here to view the full list of Xbox Game Pass games at Eurogamer.
Microsoft is announcing and adding new titles to the service on a regular basis, though. You'll always be able to find the most recent games added and coming soon to Xbox Game Pass right here. Remember, these titles may eventually leave Game Pass, but you can always purchase them for 20% off using your membership discount. Just be sure you do so before they disappear for good.
As it can vary, do remember to check whether you can play these games across both console and PC. Some – such as Control – are only available on PC.
Project Winter (added February 4th, 2021)
The Falconeer (added February 4th, 2021)
Final Fantasy 12: The Zodiac Age (added February 11th, 2021)
Jurassic World Evolution (added February 11th, 2021)
Stealth Inc. 2: A Game of Clones (added February 11th, 2021)
Pillars of Eternity 2: Deadfire - Ultimate Edition (added February 18th, 2021)
Wreckfest (added February 18th, 2021)
Killer Queen Black (added February 23rd, 2021)
Dirt 5 (added February 25th, 2021)
Elite Dangerous (added February 25th, 2021)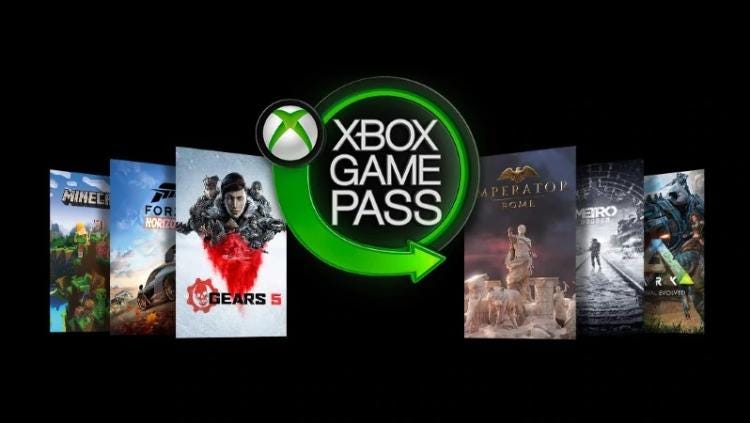 And that should cover just about everything you need to know about Xbox Game Pass Ultimate. Do check back here on a regular basis for the best Xbox Game Pass Ultimate deal and all the latest titles coming to the service.