Nintendo Switch OLED release date, price and specs
Here are all the best Nintendo Switch OLED deals and bundles plus where to buy the new console.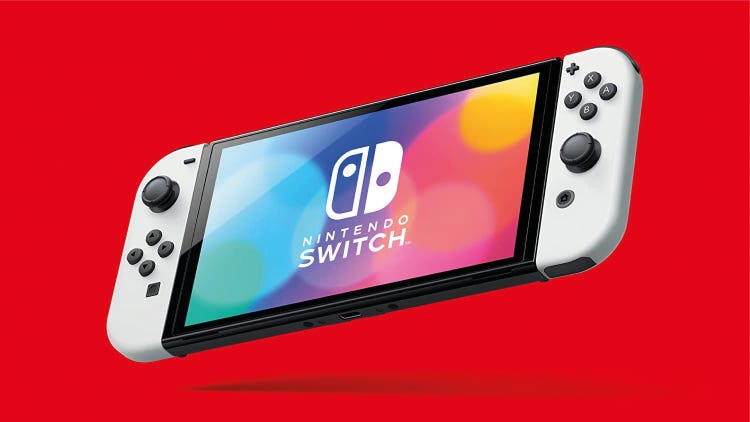 The Nintendo Switch OLED has officially launched. After months of rumours and speculations about the Switch Pro, the cat's finally out the bag. While it might not feature the upgrades many were expecting, it could still be worth purchasing if you don't already own a Nintendo Switch system, or if you're thinking of upgrading from the Switch Lite to a dockable model.
Latest: Very has the Nintendo Switch OLED in stock as a bundle with Pokemon Brilliant Diamond/Shining Pearl for £399.97
Ahead, we've compiled all you need to know about the upgraded console, including where to purchase the OLED Switch, its release date, price and specs.
Nintendo Switch OLED price and release date
The Switch OLED was released on 8 October, 2021 and has an RRP price of £309/$349.99- a £50/$50 price difference compared to the current £259.99/ $299.99 Switch model. If you're trying to decide whether the Nintendo Switch or OLED Switch model is best for you, it's worth reading on to read our side by side comparison.
Where to buy the Switch OLED
The Nintendo Switch OLED is being stocked by My Nitendo Store, Amazon, Game, Currys, Smyths, Very, Argos and more. No stock is available at the time of writing other than the Very bundle above.
In the US, the situation is the same and there's no stock available at the moment.
We'll refresh this list with all the retailers stocking the new Nintendo Switch OLED and the availability of both the White and Neon Red/Neon Blue models. So check back regularly and also keep an eye out on our Twitterpage for updates.
In the UK:
Switch OLED White
Switch OLED Neon Red/ Neon Blue
Currys PC World - Out of stock
AO - Out of stock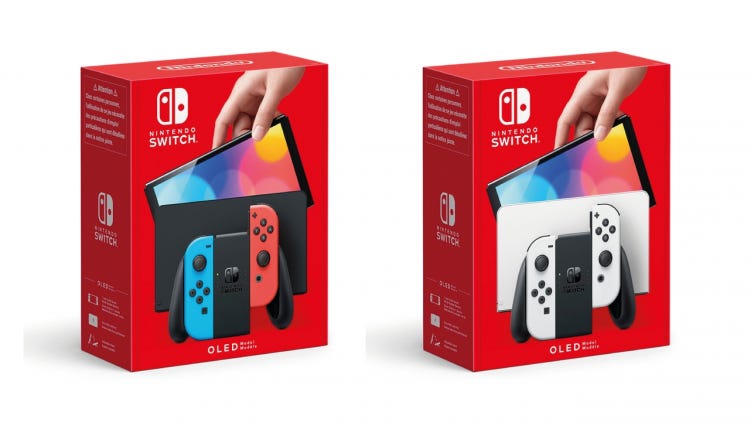 In the US:
Switch OLED White
Switch OLED Neon Red/ Neon Blue
Target out of stock
Walmart out of stock
B&H Photo out of stock
Sam's Club out of stock
Does the Nintendo Switch OLED have 4K?
The Nintendo Switch OLED will not support a 4K resolution in TV mode and will only offer a maximum resolution of up to 1080p HD. This is because the new OLED Switch does not have Nvidia's DLSS technology, which would have enabled 4K upscaling.
Switch OLED specs compared with the current model
The Nintendo Switch OLED model features a 7-inch OLED screen with a thinner bezel, while the Nintendo Switch model features 6.2 inch LCD screen. Although the 720p resolution will be the same, the improved OLED screen will offer richer contrast and a noticeably brighter, more vivid picture while playing in handheld mode.
The new Switch OLED will include a 64GB internal memory storage, which is double in size compared to the 32gb internal memory of the current Switch model and Switch Lite. It is a much needed boost for people who like to keep a digital library but many will still likely need a micro SD card for additional storage.
Enhanced audio was another key feature announced in the Switch OLED trailer but Nintendo did not go into depths about what has exactly improved. There was no mention about the OLED Switch having wireless Bluetooth support so we can only assume it will have bigger onboard speakers for better audio in handheld mode.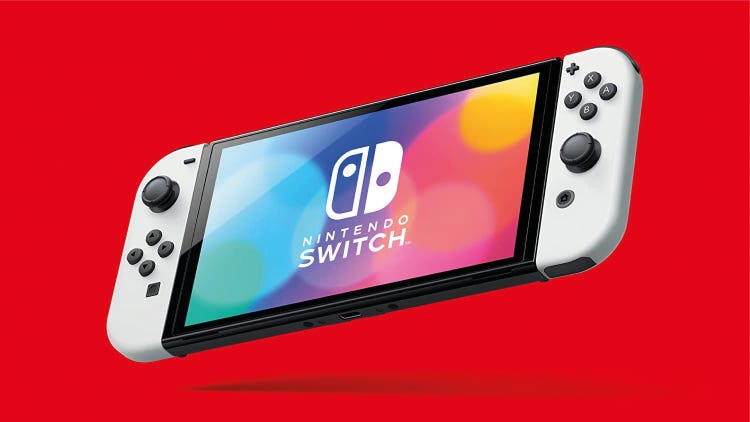 The wider, adjustable kickstand appears far sturdier than the flimsy one on the current Switch and is a much welcomed improvement. The flexible viewing angles is also an added bonus for those who like to play in tabletop mode.
The Switch OLED's revised dock is losing a USB port and will be replaced with a wired LAN port. This will offer a more stable internet connection when your Switch is docked in TV mode - ideal for those who like to regularly play online. The new dock is lighter than the current one and also compatible with the current model - it's being sold separately for those who don't wish to fork out for the entire OLED upgrade.
Does the Switch OLED have better specs?
Generally speaking...yes, but by no means the upgrade we were hoping for. Nintendo has already confirmed there is no new CPU or increased RAM in the OLED Switch. While the slight upgrades are not nearly as exciting as what many were expecting from this announcement, there are rumours kicking about that a suspected Nintendo hardware upgrade is still on the cards.
If these improvements aren't exactly ticking your boxes, you might want to hold out a little longer. Also, if Nintendo decides to discontinue the current Switch model, it means it could be heavily reduced, giving you the perfect opportunity to buy a cheap Switch.
---
But that's all the information we have for now. We'll be keeping this post updated with stock alerts and as more stores list their OLED Switch pre orders. In the meantime, be sure to give us a follow on Twitter to keep up with restocks and the latest Switch OLED deals.