The best Nintendo Switch stylus for Super Mario Maker 2 and Dr Kawashima's Brain Training
Create challenging levels or get your brain working faster with our Nintendo Switch stylus top picks.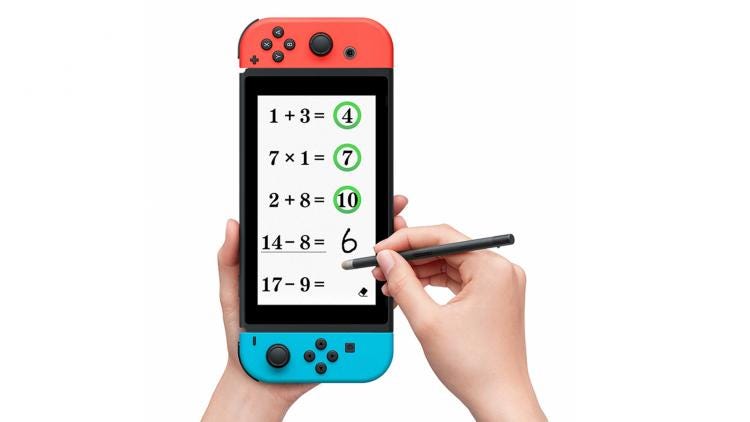 It sucks to feel like you've missed out, especially when it comes to something as cool as the Nintendo Switch stylus that came with pre-orders of the Super Mario Maker 2 Limited Edition. If you're still searching for that perfect substitute, we've got the best Nintendo Switch stylus for the job right here.
Whether you're creating levels in Mario Maker 2, indulging in tabletop fun in Clubhouse Games, or putting your math skills to the test in Dr Kawashima's Brain Training, a stylus can seriously improve your experience on Switch. Sure, many of these might not look as cool as the limited edition version, but they'll make everything you want to do on your touchscreen a breeze.
We begin with our top pick: the Meko Universal Stylus. It's functional, affordable and widely available, which makes it easy to put atop our list.
Best Nintendo Switch stylus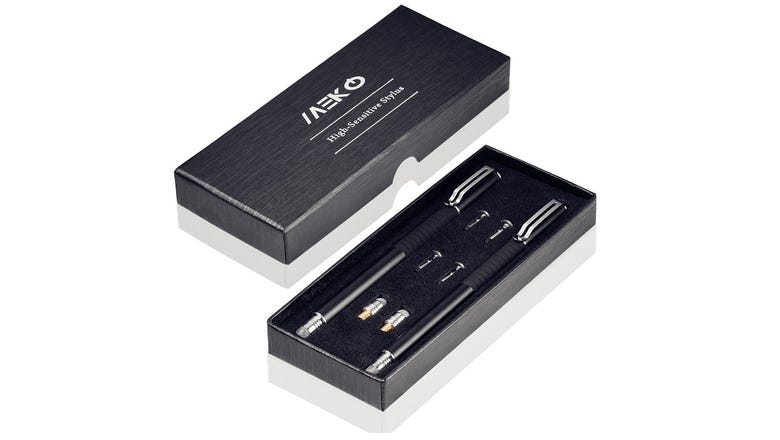 The Meko Universal Stylus sports a fibre tip on one end with a diameter of about 0.24in and a disc tip on the other offering a diameter of 0.27in. Simply flip the stylus around and use whichever you prefer. These aren't the finest of drawing tools, but they're still good for Mario Maker 2 level creation. You won't have any trouble completing accurate movements and taps feel very responsive on the screen.
What's more, if you're liable to lose your stylus, you can buy a Meko Capacitive Stylus Pen and you get a pack of two for not much more than the price of one. We've been there, right? Who hasn't somehow lost half a dozen of those fiddly 3DS styluses in the space of, well, no time at all? In addition, you also receive four replacement disc tips and two replacement fibre tips – you know, for those times when you somehow lose the tip of your stylus too.
The stylus is made from a mixture of stainless steel and aluminium, so it feels really good to the touch, and there's no risk of scratches or stains. That's why we rate it as the best overall stylus for Nintendo Switch.
Meko Universal Stylus
Buy from Amazon UK
|
Buy from Amazon US
Best Official Nintendo Switch stylus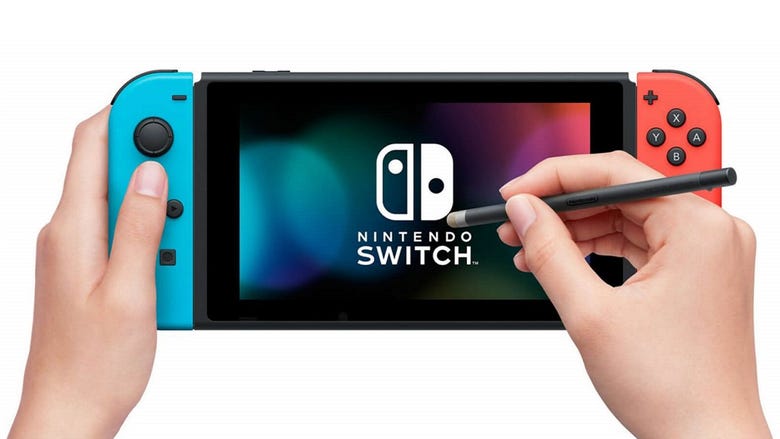 The long-awaited Nintendo Switch stylus finally launched at the start of 2020 in support of Dr Kawashima's Brain Training. Not only does this stylish little stylus come with the official Nintendo stamp of approval, but it's also one of the cheapest options available, too!
Usually, you'd expect to pay through the nose for an official Nintendo product (just look at any of the other branded Nintendo Switch accessories) but this is an entirely reasonable £6.99 from the Nintendo Official UK Store. It is, of course, very basic. Considering both Super Mario Maker 2 and Dr Kawashima's Brain Training aren't exactly demanding, though, it's perfectly fit for purpose.
The Switch Stylus is yet to go on sale in the American Nintendo store, but you can currently get a Japanese import from Amazon US for a minor markup. Or you get one free with a copy of Dr Kawashima's Brain Training on Switch. That's great news either way, as this easily sits within our picks for best Nintendo Switch stylus out there.
Official Nintendo Switch Stylus
Buy from the Official Nintendo UK Store
Buy from Amazon US
Best Premium Nintendo Switch stylus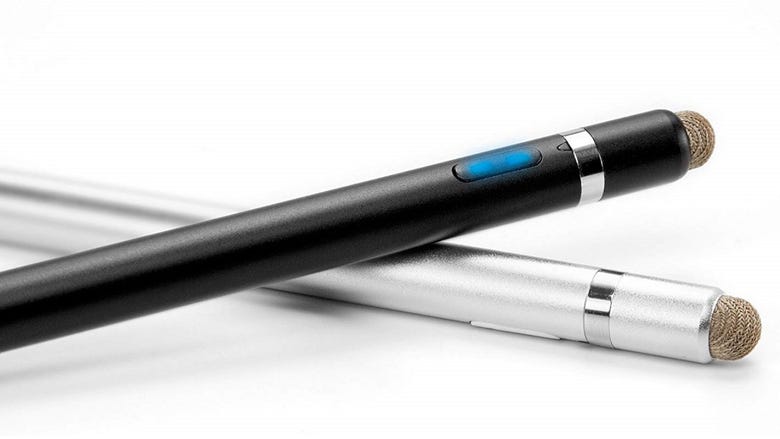 If you're happy to spend almost the equivalent of a new game on a stylus, then the AccuPoint Active Stylus is the one to buy. On top of the substantial price increase, it's also a lot harder to find outside of the US. Do keep that in mind when making your decision.
That aside, it looks like a regular pen but its stylus tip is far more sleek and accurate than cheaper alternatives being a mere 2mm in diameter. That means far more accurate swipes and taps. When it comes to using it as a Nintendo Switch stylus for Mario Maker 2, we're not convinced it's entirely necessary thanks to the game's forgiving UI. However, if you plan on drawing in Splatoon 2 or doing anything extra accurate with your Switch, you'll like this a lot.
Unlike others on this list, you need to charge the AccuPoint after about 12 hours of use. However, it charges via a Micro-USB cable, so it's hardly a great issue. Such power is exactly why the AccuPoint Active Stylus is so accurate. Electronic pulses provide the increased accuracy as and when you need it. You can flip it round to use the chunkier tip on the other side too.
AccuPoint Active Stylus
Buy from Amazon UK
|
Buy from Amazon US
Best Budget Nintendo Switch stylus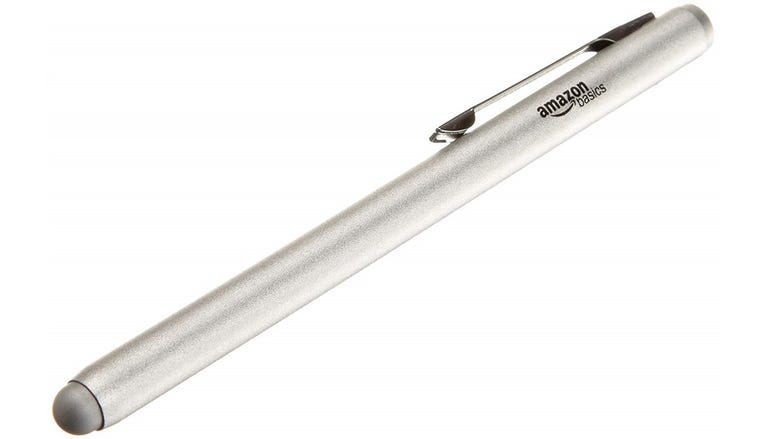 The Amazon Basics Capacitive Executive Stylus doesn't cost much less than the Meko Universal Stylus, but as they say in the adverts, every little helps. If you're looking to slice a few pennies off the price then Amazon has done a decent job with its basics range. It's grey, it looks just like a pen, and it works just fine. At practically the same price as the official Nintendo Switch stylus, it's really up to you which one you buy. Aside from the name scrawled on the side, they are near-identical.
At such a low price, you shouldn't expect any neat extras like a lanyard or replacement tips. However, it does still offer a built-in clip so you can easily hook it onto your shirt pocket when it's not stored in your Nintendo Switch Lite case. The design is subtle enough that you'd easily be able to do so in a work environment without anyone asking questions. It's made from high-quality aluminium and looks the part for all your businessy stylus needs – even if you make it your business to design the most devious Mario Maker level known to man.
Sadly this stylus is sold out at the time of writing, but keep checking in if you're looking for that perfect professional pen!
AmazonBasics Capacitive Executive Stylus
Buy from Amazon UK
|
Buy from Amazon US
Best Lightweight Nintendo Switch stylus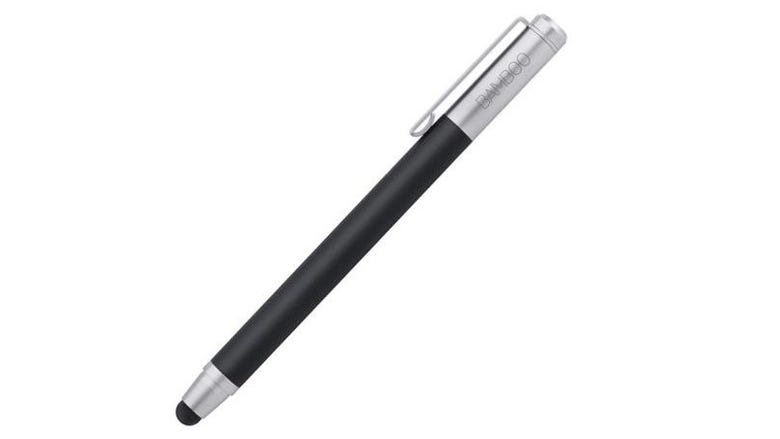 A stylus isn't particularly heavy in the first place, but the Wacom CS-100 Bamboo Solo Stylus stands out because it's just that lightweight. Made with a satin finish, it only weighs about 20g and it feels delightful between your fingers.
The rounded tip is 25% slimmer than its main competitors, with a weight-balanced design that feels comfortable at all times. The nib itself is exchangeable if you want, too! That can be useful if you feel like investing a little more into your Mario Maker 2 designs. It also makes this stylus ideal for swapping between pleasure and work purposes.
Note: you're probably going to need to buy some replacement tips in preparation, as the Wacom CS-100 Bamboo Solo Stylus does love to eat them up after extensive use on screen.
Wacom CS-100 Bamboo Solo Stylus
Buy from Amazon UK
|
Buy from Walmart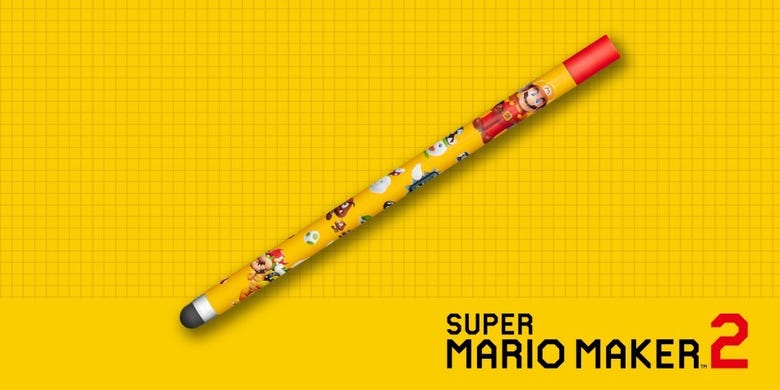 If you'd like to do a bit more research before buying your Nintendo Switch stylus we've answered a couple of the more common questions here. You can't really go too wrong with whichever stylus you get for your Switch. Still, let us clear away the confusion so you can make a decision with all the information. Do let us know if you'd like anything else answered!
Do I need a Nintendo Switch stylus?
Well, you don't necessarily need one. All the same, you'll be a lot happier when you get a stylus for the likes of Super Mario Maker 2 and Dr Kawashima's Brain Training. Handily, an official Nintendo Switch stylus comes in a bundle with every copy of the latter.
If you're playing Super Mario Maker 2 while the console is docked then you'll need to use the Joy-Con controllers to move creation elements. However, when you're playing it in handheld mode, you can only use the touchscreen. Soon enough you'll find that fingers aren't exactly the most precise way of manipulating goombas and brick blocks around a level. And, hey, who wants to leave a load of dirty fingerprints or smudge marks on their beloved Switch screen?
That should be enough of a reason for you to buy a Nintendo Switch stylus. You can then use it in that game to create levels, do some doodling in Splatoon 2, design stages in Mario Maker 2 or improve your brain age in Dr Kawashima's Brain Training.
Will any other stylus work on the Nintendo Switch?
Yes. However, due to the design Nintendo Switch screen, you can't use a solid plastic resistive stylus (like the one bundled with the Wii U or 3DS). Instead, you need a capacitive stylus. All the styluses on this page meet this requirement. If you want to go for something else, just double check it's a capacitive stylus and you'll be good to go!
Those are the best Nintendo Switch styluses out there. Hopefully, we've tracked down an option that's perfect for you (and your bank account). We'll continue to keep an eye out for new styluses that mean your Switch pointer needs are always met.
If you want to get into a serious game of Smash Bros. or burn through a few levels of Hyrule Warriors, why not take a look at the best Nintendo Switch SD card, or keep your battery going with a snazzy new power bank for Nintendo Switch.